Genre Verschmelzung, Trendsetting, Chase Nova Band
In Dublin geboren, folkloristisch inspiriert und genreübergreifend, wandte sich die Chase Nova Band an Usbstick-Produzenten, um ihnen ein maßgeschneidertes USB-Album für ihre Plattenstartparty am 26. Mai 2018 zur Verfügung zu stellen. Mit dem USB-Laufwerk können Musiker nicht nur MP3- oder WAV-Dateien einpacken, sondern auch Werbematerial, Musikvideos und Bandmitgliederprofile hochladen. Es ist eine maßgeschneiderte und effektive Möglichkeit, Musik zu veröffentlichen und Musiksammlern mit speziellen Erinnerungsstücken zu versorgen. Die Veröffentlichung von Musik mit USB-Sticks lässt viel Raum für Kreativität und senkt die Produktionskosten, so dass Künstler ihre Fans noch einfacher erreichen können. Außerdem lieben die Leute die Neuheit!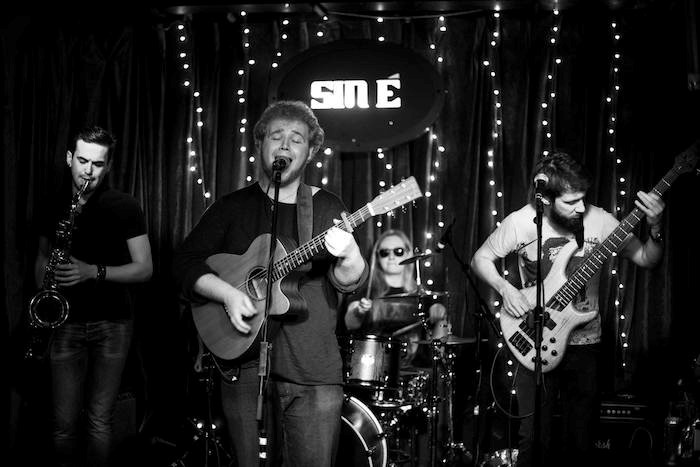 USB-Sticks bringen Musik auf die nächste Stufe
Hier ist, was sie über ihre Plattenveröffentlichungsparty und die USB-Alben, die wir für sie erstellt haben, zu sagen hatten:
"Die Nacht war unglaublich. Der Gig war ausverkauft, kurz bevor wir auf die Bühne gingen, und es gab Lacher, Geschichten und natürlich Musik. Wir haben definitiv bis zum Morgengrauen getrunken.... um zu sagen: Wir haben 50 USB's und 50 CD's mitgebracht. Wir haben noch 48 CD's und 10 USB's übrig. Die Zukunft liegt definitiv im Verkauf von USB's und das von Ihrer Firma angebotene Design war der beste Weg, die Integrität und Geschichte der LP und des Albums in unserer Musik zu bewahren und gleichzeitig eine moderne Alternative zu CD's anzubieten. Die Größe des USB erlaubte es uns, WAV-Dateien anstelle von komprimierten Mp3-Dateien zu verwenden, was bedeutet, dass die mehr audiophilen unserer Fangemeinde viel mehr dazu verleitet wurden, sich für USBs als für CDs zu entscheiden. Der zur Verfügung stehende Platz erlaubte es uns auch, hochauflösende Bilder unserer Kunstwerke und Werbefotos und sogar unsere Musikvideos für jeden, der sie weitergeben wollte, einzubinden. In unserem Spiel ist Mundpropaganda alles und die Versorgung der Fans mit den hochwertigsten Dateien unserer Musik und Videos ermöglicht es, dass jede weitere Verbreitung ihrerseits von einer Qualität ist, die uns sehr gut repräsentiert".
Unter der Leitung des ehemaligen Solokünstlers Chase Nova besteht die Chase Nova Band aus Marta Zduniak am Schlagzeug, Ken Tuohy am Bass und Seán Kenny am Saxophon. Chase Nova Band ist bestrebt, spontane und theatralische Live-Shows zu liefern, die dem Zuhörer das Gefühl geben, ein aktiver Teilnehmer und kein Zuschauer bei seinen Veranstaltungen zu sein. Immer mit theatralischen und spontanen Live-Shows ist die Chase Nova Band eine feste Größe in der Dubliner Live-Musikszene!
Das neue Zeitalter des Albumvertriebs - eine ernüchternde Tatsache
Die großen Musikhersteller Universal, EMI und Warner verkaufen alle ihre Musik auf USB-Laufwerken. Einige bahnbrechende Musiker haben bereits den Weg in die Zukunft der Musik gewiesen: Das neueste Album der White Stripes "Icky Thump" wurde auf USB veröffentlicht, Matchbox Twenty veröffentlichte "Exile on Mainstream" als USB-Armband und sogar Kanye West hat eine Single auf USB veröffentlicht. Die Rolling Stones, The Beatles, Willie Nelson, Nine Inch Nails und The Fratellis haben ebenfalls USB-Alben veröffentlicht. Die USB-Alben sind übersichtlicher, bieten weniger Durcheinander und viel mehr Extras, als ein versteckter Track auf einer CD. Die Zukunft der Musik liegt bei uns und diese Zukunft ist die USB Musik. Chase Nova Bands Debütalbum "The Sobering Fact" ist jetzt bei iTunes, Spotify, Soundcloud, Bandcamp, und Deezer!
Folgen Sie uns
Folgen Sie uns auf Facebook, Twitter oder LinkedIn und bleiben Sie mit unseren neuesten Produkten auf dem Laufenden. Wenn Sie Fragen zum Drucken von USB-Sticks aus Holz haben, stehen Ihnen unsere Accountmanager gerne zur Verfügung.